As a company whose relationship with the chemical industry extends back to first half of the last century, we are able to offer unparalleled experience in the cooling and solidification of melt products in general, and resins in particular.
These include our flagship Rotoform® system, capable of handling an exceptionally wide range of resins including high viscosity products (from 10-40,000 mPas), products with high feed temperatures (up to 300°C), and those sensitive resins that require particular care in terms of temperature profiles achieved with zone cooling. And, most recently, we have introduced our ThermoCut® system, overcoming the problem of "angel hair" on high viscosity melts.
Today we offer a choice of two process types: flaking and pastillation. These efficient and economical processes are suitable for all resin products (pure/modified, unfilled/with filling materials) including:
Acrylic resin
Tall oil resin (colophony)
Epoxy resin
Gum resin
Hydrocarbon resin
Phenolic resin (Novolake)
Polyamide resin
Polyester resin
Silicone resin
Modified resins
Feeding devices to suit different product viscosities
We offer a range of feeding devices to process resins with very different viscosities. All are designed to ensure that contact between the product and atmospheric oxygen is minimal and that no air bubbles are added, guaranteeing that there is no degradation of the resin in the feeding device.
Flaking Systems:
Production of flakes on a single or double belt system
The molten resin is deposited on the steel belt as a single layer in a predefined, controllable thickness. Belt cooling removes the heat and the resin layer solidifies. At the end of the steel belt the solidified resin layer is discharged and reduced to flakes by means of a breaker. The breaker is individually designed according to resin type, the flake size required and the capacity of the plant.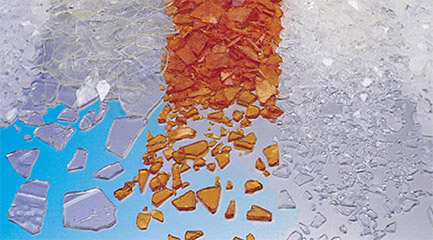 This solidification system is based on our proven steel belt cooler, a versatile system that can be adapted to meet specific process requirements such as product thickness, temperature profile or processing times.
Simple, reliable and environmentally friendly
The molten product is delivered onto the steel belt via feed device, forming a film that is taken up by the running steel belt. Retaining strips of Neoprene or rubber prevent the product from spilling over the edge of the steel belt.
The steel belt is sprayed on the underside with water from nozzles carefully positioned to ensure uniform cooling, resulting in controlled and even solidification. The heat released during cooling and solidification is eliminated through the steel belt with its excellent thermal conductivity.
The cooling water is collected in tanks and drained through an integral collecting pipe. There is no contact between the coolant and product, so there is no risk of cross contamination.
At the cooler end, a crusher breaks the solid product layer into small irregular flakes. The breaker is individually designed according to product type, the flake size required and the capacity of the plant. After leaving the crusher, the flakes are fed into a chute for further processing.
Good operability/accessibility
Economical operation with low maintenance costs
Variable product thickness
Zoned cooling allows product-specific temperature profiles
Non-polluting
Double belt systems
For high capacity operations, or where floor space is limited, we also offer a double belt system in which the product is cooled from above as well as from below. In many installations, this type of system provides significant commercial advantage.
Furthermore, as some types of waxes and resins tend to curl away from a single belt unit, resulting in irregular cooling and loss of capacity, the double belt system can be used to handle these products more efficiently. It is also possible to cool thicker products to a uniform temperature over the whole cross section.
The double belt system also helps to reduce vapours and fumes and to keep them from the operating area.
Rotoform – the market-leading granulation system for resins
Our Rotoform system has proved itself over many years to be the ideal process for the granulation of resin products, delivering a superior quality end product regardless of the properties of the material being processed.
It is used for a wide range of resin types – for many it has become the default processing solution – and offers a number of significant benefits:
Efficient cooling through good contact with the steel belt
Very wide product viscosity range (10-40,000 mPas)
Very wide temperature range (feeding temperature up to 300°C)
Ability to process and solidifiy sticky and highly viscose resins
From melt to pastilles in one operation
Uniform, hemispherical granules – no need for breaking/grinding equipment
Environmentally friendly production – virtually no exhaust air pollution
Cooling water is recirculated
Easy changeover to different products or pastille sizes