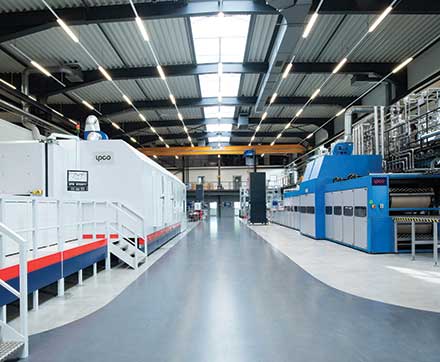 Please visit us Hall 6, Stand D74

IPCO will participate at JEC World in Paris. JEC 2023 is a global trade show for composite materials and their applications. IPCO is one of the world's leading manufacturers of double belt presses used to produce composite materials. Our company is a globally-active engineering group, manufacturing and installing process systems to produce a wide range of composite materials used in the automotive, transportation, aerospace, flooring, construction, non-woven, and textile industries.
High performance composites are typically lighter and stronger than traditional materials and can play a significant role in industrial decarbonisation initiatives. This focus on sustainability has led to the development of renewable, bio-based solutions and products incorporating high levels of natural or recycled materials.
IPCO is the only double belt press manufacturer capable of supplying systems based on steel belts, Teflon® belts or a combination of the two. The modular design of ThermoPress press systems enables multiple stages of production – including polymerization, curing and cooling – to be incorporated into a single, highly efficient continuous process. A choice of belt types and pressure modules allows systems to be configured to meet virtually any pressure and heating requirements.
At IPCO's center of excellence, a 1600 sq.m. test and demo center near Stuttgart/Germany, a full range of processes can be assessed, from consolidation / calibration, lamination and impregnation, to tempering and cooling. Applications include consolidation of pre-laminated sheets and impregnation of fibers with resin. Resin can also be applied in powder, film or liquid form onto a non-woven or felt material.
A complete set of pilot systems, including a recently installed ThermoPress SB steel belt line, a ThermoPress TB (Teflon®) and a CB (Combi) unit, enables IPCO and its partners and customers to co-operate on the research and development of thermoplastic composite materials and produce prototypes scalable to production size. This in turn provides the process data needed to design high productivity commercial-scale solutions.
---
ScatterPRO: Precision Scattering for Composites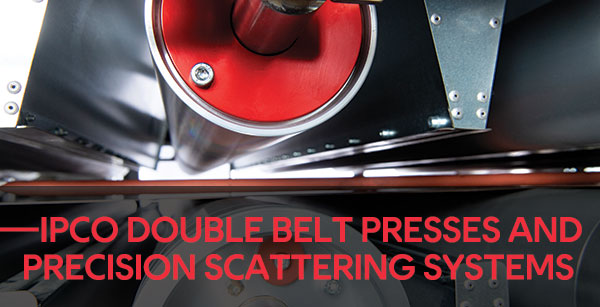 Complementing the ThermoPress range, IPCO manufacturers a range of high precision scattering systems that can be incorporated into production lines to scatter powder, granulate or fibers.
These systems are used to achieve uniform scattering of various materials used in the manufacture of products for the automotive, textile, recycling / sustainable composites, and construction industries. A modular design allows multiple stages to be incorporated into one continuous process.
---