Please visit us Hall 26, Stand D58

IPCO will use Ligna 2023 to highlight the service and support services it provides to press manufacturers and Wood Based Panel producers alike.
The stand will feature a dedicated productivity centre, manned by WBP belts specialists, where repair and maintenance techniques will be explained. Tools on show will include the company's Shotpeener Pro, a portable unit used to restore deformed steel belts to a totally flat condition, without interrupting production.
The next generation Shotpeener Pro incorporates a number of technical advances, resulting in increased blasting effect for faster results. Flattening capacity has been increased by 30%, enabling the restoration of belts that might previously have been beyond repair. And the entire process has been reconfigured to reduce cleaning requirements and enable safer, easier operation.
IPCO will also be highlighting the QuickDisc Plus 500, a repair tool used for removing the damaged area of a belt and cutting out a replacement disc from the spare section that the company supplies with every belt. This is self-contained cutting and welding system can be used to repair damaged areas up to 480 mm in diameter on steel press belts.
Global Service Network
As well as carrying out repairs, IPCO engineers can help end users achieve maximum return on investment through planned maintenance and preventative work. With a global service network, IPCO's teams can provide immediate support if a problem does occur. And more serious issues can be handled by IPCO's Press Priority Team, specialists who can offer practical support anywhere in the world at short notice.
100 years Of Steel Belts
IPCO has been supplying steel belts for double belt presses for more than 100 years, and has been behind many of the advances in technology that have driven the development of the modern WBP industry. Today, IPCO supplies press belts in two main steel grades: 1100C and 1650SM. The different characteristics of these grades range enables the company to deliver the optimum combination of tensile strength; elasticity and thermal conductivity; and resistance to corrosion and general wear and tear. The company's production facility in Sandviken, Sweden is certified to ISO 9001:2015, ISO 14001 and ISO 45001:2018. Press belts can be manufactured in thicknesses from 1.2 – 3.5 mm, and up to 4,620 mm wide. The manufacture of wide belts involves welding two or even three belts together longitudinally – top and bottom – to create a belt of the required width. The belt is then ground to meet critical thickness tolerances and achieve the required surface texture. The higher the quality of manufacture at this stage, the lower the requirement for post production grinding on the end product, so IPCO's ability to produce premium quality belts can have a significant impact on the overall productivity and profitability of a press operation.
---
ScatteringPRO:

Precision Scattering Technology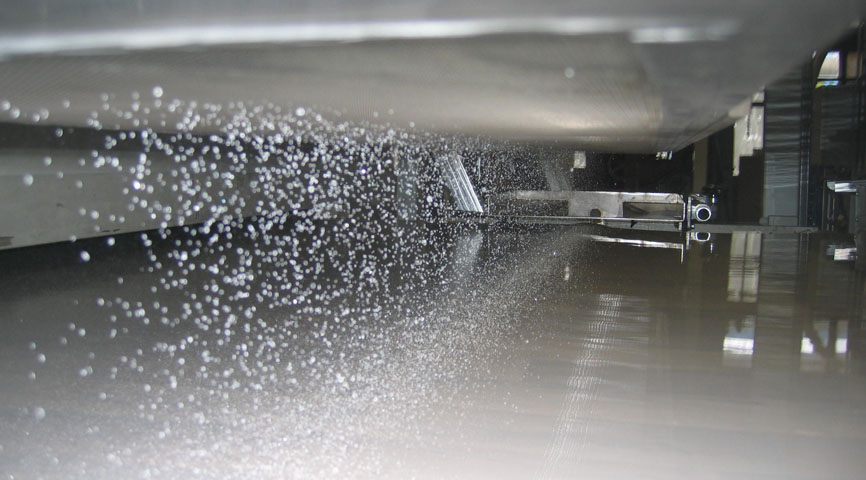 IPCO is a world-leading manufacturer of precision scattering systems and will use a demonstration model to explain the benefits of this technology. The company's ScatterPro C model is used for corundum scattering, a key process in the production of abrasion-resistant flooring. The system ensures uniform distribution of a precise quantity of powder over the full width of the substrate.
---
DIGITAL PRINTING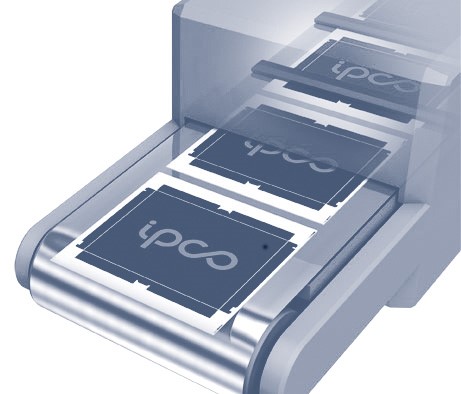 IPCO will also be highlighting the role that its steel belts and High Precision Tracking (HPT) system can play in delivering faster, more precise digital printing. Research carried out by Fraunhofer IPT has shown steel belts to be as much as 6x more stable than plastic. This performance is further enhanced by the use of a tracking system accurate to +/- 0.1 mm and capable of operating at belt speeds up to 300m/min.
---
(Left) Marco Girlanda GPM Digital Printing
(Center) Sascha Porst GPM WBP
(Right) Frank Maué GPM Composites
---