The acquisition team (ltr): Robert Schortz (Vice President Strategy Execution and M&A IPCO), Cindy Guo (external Legal Counsel with Zhong Lun Law Firm), Shaobai Li (Vice President APAC Sales & Service IPCO), Roy Zhang (MD Long Goal/Longwin), Lefan Gong (External Legal Counsel with Zhong Lun Law Firm)
IPCO extends its footprint in China by acquiring Nantong Langwei New Materials, "Long Goal".
The deal to acquire Long Goal closed today, 13th October 2023, giving IPCO local steel belt production capabilities for the Chinese market and enhancing IPCO's competitiveness in China. The acquisition will enable IPCO to take advantage of local cost levels and shorter lead times while also reducing CO2 emissions and risks caused by transportation to and from Sweden.
All belts will be sold under the IPCO brand in China, utilizing IPCO China's current sales force, strengthened by Long Goal sales representatives. Former Long Goal employees will be fully integrated into IPCO's China organization during Q4.
Robert Hermans, IPCO CEO said, "We are delighted to welcome the Long Goal team to IPCO. Local Chinese supply will strengthen IPCO's competitiveness for the vital Chinese belt market, and will also eliminate transportation needs around the globe. This is good news for our customers, good news for our business and good news for the planet. Moreover, this is a perfect fit with our strategic priority "In China for China".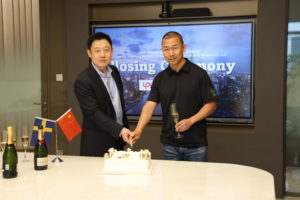 Shaobai Li (Vice President APAC Sales & Service IPCO), Roy Zhang (MD Long Goal/Longwin)